This week has been… tricky so far but I don't really want to talk about it. Instead, lets talk about how Marvel put out a new Hawkeye comic starring the one, the only, Kate Bishop! I've been super excited about this coming out for the month or so that I've known it was coming. Right up until yesterday, when I read Marvel's blurb about it.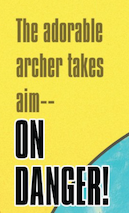 Between the "adorable" on the cover, and the phrase "the chick who puts the hawk in Hawkeye", I was a little concerned that the book would be more eye-candy ridiculous than an actual story with meat on it. There's more to Kate and I was ready to be irate on her behalf.
It turns out, however, that the cover-blurb seems more about setting up the tone of a film noire detective story than about making Kate feel like a diminutive or infantilized version of Clint. Kate is her own woman and she is starting her own independent life away from the Avengers, the Young Avengers, and Clint's BS. Sadly, also away from Lucky but can't have it all.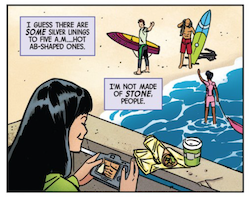 The issue has a lot of tongue-in-cheek comedy,mostly centering around Kate's appreciation for the Venice Beach "suns out, guns out" crowd and her tendency towards snarky quips and smart-ass comments. It really feels like a continuation of her time in LA during the Matt Fraction run, which was when I fell in love with the character. She's no longer doing yoga on top of an old lesbian couple's trailer but she's in a similarly cheap and make-due type of home with a new and adorable cast of supporting people. I'm particularly excited to see more of Ramone, the owner of the nearby surf shop.

My favorite gag involved all the potential clients that Kate talks to throughout her day and including this amazing interaction: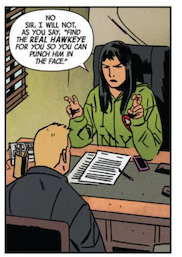 No, sir, I am not just the secretary, nor am I the lesser Hawkeye, and I will not step back and let Clint take over.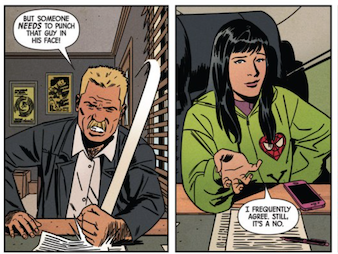 The coolest bit of the book so far, and the page I want to leave you all on, is the first case that Kate actually takes. It caught my attention and my excitement because it's not a ridiculous comic-book problem. There's no costumed menace or ticking clock on a bomb. Instead, there's a college-age woman, trying to deal with an online stalker harassing her.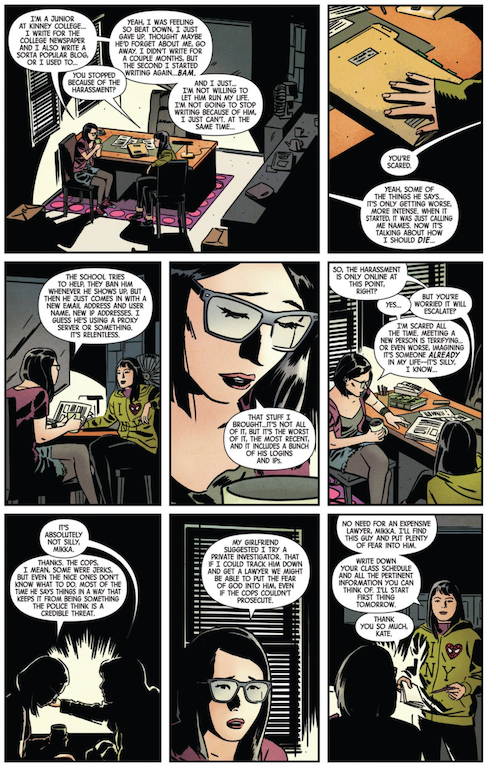 I'm very excited about BOTH of the Hawkeye's adventures in dealing with problems that real people in our country deal with. There's no clean drinking water. There's someone threatening violence online. I think that's my favorite part about the characters. They don't have super powers, they don't necessarily deal with super-problems, but they always are focused on helping people solve the problems in their lives.
I'm looking forward to more of Kate and I am super excited about issue 2 of Occupy Avengers next week as well!